Common Restaurant Worker Injuries In Harrisburg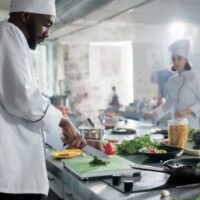 Workplace injuries can happen in any job and in any type of industry, yet they are more common in some types of work than in others. Workers who are employed at restaurants are often exposed to a range of injury risks, and they can suffer many different types of injuries on the job. Given that the broad term of "restaurant workers" in the Harrisburg area can include servers, bartenders, chefs, food preparers, delivery drivers, and more, the range of injury risks that restaurant workers face can be extensive and varied. The important thing to know for any restaurant worker who is injured on the job is this: you may be able to obtain workers' compensation coverage if you sustained an injury that arose out of your employment. Our Harrisburg workers' compensation lawyers can say more about restaurant work and common injuries in this type of job.
Learning More About Restaurant Workers and Injury Risks 
There are many different types of workers who are employed by restaurants, and the type of job a person does for a restaurant can play a role in the kinds of injuries that they might suffer at work. The following are the types of jobs for which restaurants in Pennsylvania routinely hire workers:
Hosts;
Servers;
Bartenders;
Chefs;
Food preparers;
Cleaners;
Cashiers; and
Delivery drivers.
These different jobs come with many injury risks. If you got hurt doing one of these jobs at a restaurant or elsewhere, you could be eligible for workers' compensation coverage.
Restaurant Worker Tasks and Common Types of Accidents
Collectively, restaurant workers are responsible for many different tasks at work. As the U.S. Bureau of Labor Statistics (BLS) emphasizes, those job tasks can include: delivering food and drinks to customer tables, preparing foods for takeout and delivery, greeting customers and answering phones, managing the cash register, cleaning areas of the restaurant, making food for customers, and delivering food orders. Within these different work tasks, restaurant workers often get hurt in the following types of accidents:
Slips and falls due to liquid or food spills;
Trips and falls due to objects in a server's or chef's path;
Cuts and lacerations caused by kitchen knives;
Traumatic amputations and crush injuries caused by kitchen appliances and tools, such as meat grinders, meat slicers, and kitchen knives;
Motor vehicle crash injuries affecting delivery drivers;
Burn injuries caused by contact with kitchen appliances like ovens or stovetops;
Chemical exposure injuries while cleaning; and
Assault injuries caused by irate customers, which often affect bartenders, delivery drivers, and food servers.
Contact a Workers' Compensation Lawyer in Harrisburg 
Nobody goes to work with the expectation that they will be injured on the job, and some types of work pose more injury risks than others. While restaurant work may not seem as hazardous as jobs in the construction or trucking industries, for example, workers can actually suffer a wide range of injuries on the job. Depending upon the circumstances, restaurant worker injuries may be compensable through the Pennsylvania workers' compensation system. One of the experienced Harrisburg workers' compensation attorneys at Ira H. Weinstock, P.C. can assist you with your workers' compensation claim.
Source:
bls.gov/ooh/food-preparation-and-serving/food-and-beverage-serving-and-related-workers.htm#tab-2