Workers' Compensation for Delivery Drivers in Pennsylvania: Everything You Need to Know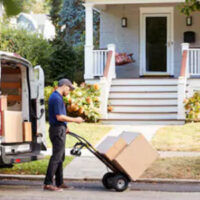 Delivery drivers seem to be in a hurry all the time. They are no strangers to pushing themselves to the limits due to unrealistic deadlines. Often, they do it at the expense of their own safety. The desire to make on-time deliveries can put a delivery driver in harm's way.
Unfortunately, car crashes involving delivery drivers are not unheard of. The same can be said about neck and back injuries, which are prevalent among delivery drivers because they are required to work long hours and lift and carry heavy items.
If you work as a delivery driver and got injured while performing your duties, you may be wondering about your eligibility for workers' compensation in Pennsylvania.
Workers' Comp for Delivery Drivers in Pennsylvania
If you are a delivery driver who was involved in an auto or truck accident in Harrisburg or other parts of Pennsylvania, you may be wondering about whether you are entitled to receive workers' compensation benefits.
Generally, delivery drivers who got injured in a motor vehicle crash have two options:
Pursue workers' comp benefits; and/or
File a personal injury claim.
In many cases, a delivery driver may be able to pursue both a workers' comp and a personal injury claim. The decision between the two comes down to one question, "Did your accident involve any other party, such as another car driver?"
For example, if you were involved in a vehicle crash with another motorist in the course of your employment, you can pursue a personal injury claim against that driver. In that situation, you may also be able to bring a workers' comp claim against your employer. On the other hand, if you were the only party involved, your only option to recover damages is to file a workers' comp claim.
After filing a workers' comp claim, a delivery driver is not required to prove anyone's fault in order to obtain compensation. The same cannot be said about personal injury cases, which are based on fault and negligence.
Not All Delivery Drivers Are Eligible for Workers' Compensation
The bad news is that not all delivery drivers are entitled to workers' comp benefits if they were injured while making deliveries or performing their other duties. Many delivery drivers are classified as independent contractors.
Under Pennsylvania's workers' compensation law, employers must provide workers' comp benefits to all employees, including part-time and seasonal employees. Independent contractors, however, are out of luck. The workers' comp coverage does not extend to independent contractors.
However, if you suffered a work-related injury as an independent contractor, you may still be entitled to workers' comp benefits if your employer misclassified your status. Speak with an attorney to find out more about employee misclassification in Pennsylvania.
Even if you are a delivery driver who is eligible for workers' compensation, your claim could still be denied, especially if your employer or their insurer believes that the accident occurred when you were off duty.
If your claim was denied or you are not sure whether you are entitled to workers' compensation as a delivery driver or believe another driver is at fault, speak with our Harrisburg workers' compensation attorneys and Harrisburg Personal Injury Attorneys at Ira H. Weinstock, PC. Call at 717-238-1657 to get a consultation.
https://www.paworkerscompensation.law/pennsylvania-workers-compensation-is-moving-forward-with-new-claims-hearings-and-mediations-following-the-coronavirus-covid-19-pandemic/