Can I Get Workers' Compensation for a Repetitive Trauma Injury in Pennsylvania?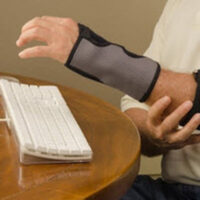 While most workers in Pennsylvania are aware of the dangers of traumatic events at work such as falls from heights and slip or trip and fall accidents, many overlook repetitive trauma as a recognizable work related injury.
According to the Bureau of Labor Statistics, repetitive strain injuries represent a third of all work-related injuries and result in the longest work absences. Repetitive trauma injuries involve a worker's repeated movements cause their muscles, joints, bones, ligaments, or tendons to become strained. The date for providing notice to the employer that a repetitive trauma CAN be the last day of work OR the date the diagnosis was made, whichever is earlier.
While repetitive motion injuries develop gradually, they can be very serious and may affect a worker's ability to perform job duties. Luckily, Pennsylvania workers diagnosed with a work-related repetitive trauma injury may be eligible for workers' compensation.
Contact our Harrisburg workers' compensation attorney at Ira H. Weinstock, P.C., to help you obtain workers' comp benefits for your repetitive stress injury in Pennsylvania.
Common causes and types of repetitive strain injuries
The most frequent types of RSIs among workers are:
Carpal tunnel syndrome
Musculoskeletal disorders
Bursitis
Tennis elbow
Rotator cuff injuries or tendonitis
Neck and low back aggravations of pre-existing conditions due to repetitive trauma.
Common causes of work-related repetitive strain injuries include:
Sitting or standing in the same position for a long time
Putting too much stress on joints, muscles, tendons, ligaments, or bones
Staying in an unnatural pose for a long time
Working at a non-ergonomically designed workspace
Keeping a poor posture
Constantly grasping, moving, or turning an object for an extended period
Performing the same movements over and over again
Moving heavy objects
Cleaning and scrubbing surfaces and mopping floors
Participating in a sports activity
Playing musical instruments
High-risk jobs for repetitive strain injuries
The following is the list of occupations that are more at risk of developing RSIs:
Office workers
Medical workers, including nurses
Grocery and stock workers, including cashiers
Agricultural workers
Delivery workers
Musicians
Bus and truck drivers
Janitors and housekeepers
Professional athletes
Textile workers
Hairdressers
Workers in food processing
Welders
Carpenters
Does my repetitive strain injury qualify for Pennsylvania workers' compensation?
Yes, under Pennsylvania law, you are entitled to workers' compensation benefits if your injury was caused by work or occurred in the course of employment.
If you can prove that your repetitive strain injury is related to work, you may qualify for workers' compensation, which may cover your medical expenses and lost wages.
You may need help from a Pennsylvania workers' compensation lawyer to help you prove that your repetitive motion injury was caused by work. Also, you may be able to obtain workers' comp if your pre-existing repetitive trauma was aggravated while doing your job.
Your employer's workers' compensation insurance carrier may deny your claim if you fail to show clear evidence to prove that your work was a substantial factor in causing your repetitive trauma injury. If there is little to no connection between your work and RSI, you will have a hard time seeking compensation.
At Ira H. Weinstock, P.C., we realize that a repetitive strain injury can impact many aspects of your life and prevent you from performing your job duties. Let our Harrisburg workers' compensation attorneys help you collect sufficient evidence to prove that your repetitive motion injury is work-related. Call 717-238-1657 to discuss your case.
Resource:
bls.gov/opub/ted/2004/mar/wk5/art02.htm