Car Accidents During Bad Weather: Who Can Be Held At Fault For The Crash?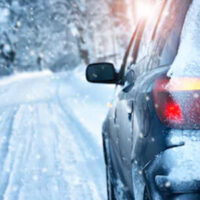 Pennsylvania is no stranger to cold and tough weather conditions in winter. Bad weather conditions significantly increase the chance of a car crash, which is why Pennsylvania sees so many auto accidents on its roads every winter.
Snow, ice, wet and slippery roads, precipitation, and other adverse weather conditions contribute to more car accidents in Pennsylvania. Determining liability in a car accident caused by bad weather conditions can be tricky. Contrary to popular belief, just because you were involved in a car crash during adverse weather does not necessarily mean that you cannot be held at fault for the collision.
Who's Held at Fault for Weather-Related Car Accidents in Pennsylvania?
While you cannot file a lawsuit against weather or Mother Nature to recover damages, you could be able to seek compensation from the other party involved in the crash. Under Pennsylvania's traffic law, motorists have a legal duty to drive safely to avoid causing harm to others.
That means that drivers must drive carefully and adjust their driving habits to match weather conditions. Let's imagine the following scenario: Driver A is late for work and fails to slow down even though roads are slippery due to bad weather. As the driver approaches the intersection, traffic stops at a red light, but the driver fails to stop in time to avoid a collision with the vehicle in front of him.
While bad weather contributed to the crash because roads were slippery, the driver would still be held responsible for the collision because they failed to drive carefully (driving too fast for weather conditions and not maintaining a safe distance between vehicles).
Seeking Compensation After a Car Crash Caused by Adverse Weather
If a weather-related car accident involves multiple vehicles, each driver's compensation could be reduced in proportion to their degree of negligence. Pursuant to Section 7102 of the Pennsylvania General Assembly, the state follows the doctrine of modified comparative negligence.
In Pennsylvania, you can seek compensation for your damages following a car crash as long as your percentage of fault does not exceed 50%.
Tips to Avoid Causing a Car Accident During Bad Weather
You can stay safe this winter and avoid causing car crashes if you follow these tips:
Slow down. You must slow down and drive at a slower pace when roads are slippery or icy to maintain control of your vehicle at all times.
Maintain a safe distance. Wet and slippery roads can affect your vehicle's braking distance, which is why it is vital to maintain a safe distance from other cars on the road.
Avoid distractions. You should pay maximum attention to the road while driving. This rule is especially important during bad weather.
Keep your headlights on. This will make your vehicle more noticeable to other drivers when it's snowing.
Avoid driving when weather conditions are too dangerous to drive. If possible, you should refrain from driving when weather conditions are too hazardous.
If you were involved in an auto accident during adverse weather in Pennsylvania, contact our Harrisburg car accident attorney at Ira H. Weinstock, P.C., to help determine liability in your case and seek compensation on your behalf. Call at 717-238-1657.