COVID-19 and Workplace Injury Risks for Pennsylvania's First Responders, Grocery Store, and Warehouse Workers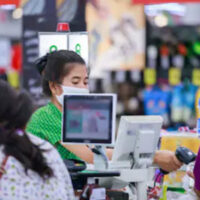 First responders risk their lives to protect citizens. Since first responders are often exposed to hazards on-the-job, they are likely to suffer injuries while performing their duties. The COVID-19 pandemic showed how important first responders are and how dangerous their job is.
First responders were not the only ones who served a critical role during the coronavirus crisis in 2020. Grocery store and warehouse workers were among those who were classified as "essential workers" and continued to go to work every day despite the risk of COVID-19 infection.
But are first responders, grocery store, and warehouse workers entitled to workers' compensation benefits if they sustain a work-related injury or illness?
Workers' Compensation Benefits for First Responders in Pennsylvania
Workers' compensation insurance is mandatory for all employers in Pennsylvania who employ at least one employee. More details about the requirement to carry workers' comp insurance can be found in "PA Workers' Compensation Employer Information" published by the Pennsylvania Department of Labor & Industry.
While first responders – paramedics, police officers, and firefighters – have different responsibilities, they are prone to similar types of work-related injuries, including:
Overexertion injuries
Lifting injuries
Back injuries
Strains and sprains
Repetitive motion injuries
Bruises, ligaments, and lacerations
Injuries caused by assaults and violent acts
Car accident injuries
Since being around and communicating with people is an integral part of a first responder's job duties, frontline workers are at an increased risk of contracting the coronavirus disease (COVID-19). While a first responder would be required to demonstrate evidence that they became infected with COVID-19 at work in order to be eligible for workers' compensation benefits, they are more likely to prove that their infection is work-related compared to workers in other industries.
Workers' Compensation Benefits for Grocery Store and Warehouse Workers in Pennsylvania
Working in a grocery store or warehouse involves an increased risk of injury. Many of the job duties of grocery store and warehouse workers involve a high risk of workplace injury:
Stocking products and restocking shelves
Climbing ladders to put items on shelves
Lifting and carrying heavy items
Cleaning the premises
Loading and unloading delivery vehicles
Operating forklifts and other types of machinery
Grocery store and warehouse workers put themselves at an increased risk of workplace injury, including spinal cord injuries, muscle strains, repetitive motion disorders, broken bones, neck injuries, and many others.
Are You Entitled to Workers' Compensation Benefits in Pennsylvania?
Regardless of whether you are a first responder, grocery store worker, or warehouse employee who was injured on the job, you may qualify for workers' compensation benefits under the Pennsylvania Workers' Compensation Act.
Your case must meet two basic requirements to be entitled to workers' comp benefits in the state of Pennsylvania:
You sustained a work-related injury or illness; and
You reported your workplace injury or work-related illness to your employer within 120 days.
If your case meets these basic requirements, you are likely to qualify for workers' compensation benefits. If your employer or their insurance company denied your workers' compensation claim or you need assistance with pursuing your claim, contact our lawyers at Ira H. Weinstock, P.C. Schedule a consultation with our Harrisburg workers' compensation attorney by calling at 717-238-1657.
Resource:
dli.pa.gov/Individuals/Workers-Compensation/publications/Documents/libc-200.pdf
https://www.paworkerscompensation.law/category/workers-compensation/