If My Doctor Says I Am Disabled, Can I Get SSD Benefits?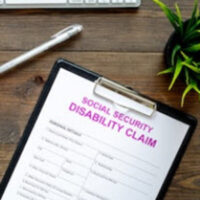 When you have sustained a debilitating injury or you have been diagnosed with a disabling disease, you should be learning more about your ability to seek Social Security Disability benefits (commonly known as SSD benefits) through the Social Security Disability Insurance (SSDI) program. You may already know that SSD benefits are not provided based on financial need. To be clear, SSD benefits are distinct from Supplemental Security Income benefits. The latter are provided based on financial need. With SSD benefits, differently, a person can be eligible if they can prove they have a disability as it is defined by the Social Security Administration (SSA), and if you have a sufficient work record to qualify for benefits.
Both eligibility requirements can be complex, and it is important to work with a disability benefits lawyer in Harrisburg who can help you. In the meantime, you may be wondering about how you can meet the Social Security Administration's definition of a disability. Many people seeking SSD benefits want to know: if a doctor says I am disabled, can I get SSD benefits? Unfortunately, the answer to that question may not be straightforward, but you ultimately could be eligible to receive disability benefits.
Many Definitions of a Disability Exist That Might Not Meet the Requirements for SSD Benefits 
While it might not seem logical, a doctor or another health care provider saying that you are disabled—using that term specifically—or referring to your disabling injury or illness may not be sufficient to qualify you for SSD benefits. To be sure, many definitions or understandings of what constitutes a disability may not meet the SSA's required definition.
According to Oxford, for example, a disability can be defined as "a physical or mental condition that makes it difficult for somebody to do some things that most other people can do." The U.S. Centers for Disease Control and Prevention (CDC) defines a disability as "any condition of the body or mind (impairment) that makes it more difficult for the person with the condition to do certain activities (activity limitation) and interact with the world around them (participation restrictions)." Even the Americans with Disabilities Act (ADA) defines a disability in such a way that a person may continue working but can be eligible for reasonable accommodations. The ADA defines a person who has a disability as "a person who has a physical or mental impairment that substantially limits one or more major life activity."
Proving a Disability for SSD Purposes Requires You to Meet the SSA's Definition
All of these definitions are different from how the SSA defines a disability, which is "the inability to do any substantial gainful activity by reason of any medically determinable physical or mental impairment which can be expected to result in death or which has lasted or can be expected to last for a continuous period of not less than 12 months."
Accordingly, while your doctor will be important for providing medical evidence that shows you meet this specific definition of a disability, your doctor merely acknowledging that you are disabled may not meet the legal definition used for SSD eligibility purposes.
Contact a Social Security Disability Lawyer in Harrisburg
 If you need assistance proving that you have an eligible disability for SSD benefits, one of the experienced Harrisburg SSD lawyers at Ira H. Weinstock, P.A. can assist you.
Sources:
ssa.gov/benefits/disability/#:~:text=The%20SSDI%20program%20pays%20benefits,Security%20taxes%20on%20your%20earnings
ssa.gov/OP_Home/cfr20/404/404-1505.htm#:~:text=(a)%20The%20law%20defines%20disability,not%20less%20than%2012%20months
oxfordlearnersdictionaries.com/us/definition/english/disability
cdc.gov/ncbddd/disabilityandhealth/disability.html
adata.org/faq/what-definition-disability-under-ada