Supreme Court Finds An Award Of Attorney Fees Are "Mandatory" For Injured Workers Who Prevail In Pennsylvania Workers' Compensation Cases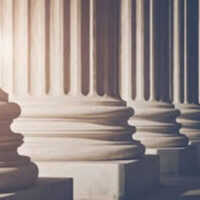 In the case of Lorino v. W.C.A.B. (Commonwealth of PA/Penn DOT), ___ A.3d ___, 2021 WL 6058030, filed 12.22.2021 (Pa. 2021), the Pennsylvania Supreme Court in a unanimous decision, has ruled that injured workers who are successful in fighting for Pennsylvania Workers' Compensation benefits shall also be awarded the costs of their attorney fees at the discretion of the Workers' Compensation judge.  The Court focused on a reading of Section 440(a), 77 P.S. § 996(a) of the Pennsylvania Workers' Compensation Act. That statute provides, in pertinent part, that in "any contested case … the employee … in whose favor the matter has been finally determined in whole or in part shall be awarded … a reasonable sum for costs incurred for attorney's fee …[.] Provided that cost for attorney fees may be excluded when a reasonable basis for the contest has been established by the employer …." (Emphasis added).  The Court found that the "shall" language means that attorney fees are mandatory for prevailing Claimants, while the "may" language is merely permissive and requires the Workers' Compensation Judge to find substantial reasons why counsel fees should not be awarded to a prevailing injured worker.
This finding is a massive shift from the previous practice where Claimants, in essence, were required to prove that the Employer engaged in an unreasonable contest in order for a successful Claimant to obtain an award of attorney fees.  Now the Supreme is signaling that an award of attorney fees should be the norm unless there is substantial evidence to prove that the Employer engaged in a reasonable contest and the Workers' Compensation judge properly uses their discretion to deny Claimant's counsel fees.
This finding is especially significant for injured workers who traditionally may have had a hard time finding attorneys to fight for their workers' compensation medical benefits and payment of medical bills denied by the workers' compensation carrier.  In those "medical only" cases, it was difficult for attorneys to earn fees because if the Claimant was successful it merely meant that the injured worker's medical providers were paid, not their lawyer.  Now in medical only cases, injured workers will have significantly more options in fighting for payment of their medical bills.
If you have a workers' compensation issue that involves an Employer's denial of wage loss or medical benefits, you should discuss the matter with an experienced Pennsylvania Workers' Compensation attorney.