Winter Driving: What To Know About Auto Collisions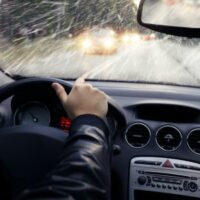 Driving in the winter can present significant safety risks. Not only can inclement weather impact road conditions, but holidays can lead to increased travel and increased alcohol consumption. It is important to understand some of the hazards of winter driving, and to know who may be liable in the event of a collision. Our Harrisburg car accident lawyers can provide you with more information about winter driving and auto collisions in Pennsylvania.
Holidays Are Common Times for Crashes 
During the winter there are a number of holidays that often involve travel to the homes of friends or family members. In addition, the winter holidays often involve driving to workplace holiday parties, as well as to both local and distant gatherings. Given that more people are traveling during the holidays, there is an increased risk of a winter car accident during these periods. Indeed, according to the National Highway Traffic Safety Administration (NHTSA), motor vehicle crash data shows that accident rates do increase during the holidays.
The rise in collisions is often attributed to the fact that there are more vehicles on the roads, that there is an increased risk of inclement weather and accompanying dangerous driving conditions, and that more people are intoxicated while driving home from holiday get-togethers. The holiday season can also see increased traffic at bars and restaurants, which can also result in a higher number of intoxicated driving crashes.
Inclement Weather Requires Driving Adjustments
 Traffic laws, including speed limits, are in place for the best driving conditions. When inclement weather impacts Pennsylvania roads, it is critical for drivers to know that they need to make adjustments for their own safety, as well as for the safety of other traveling motorists. With conditions involving low visibility, or snow and ice, it is critical to reconsider the speed limit and your following distance. Failure to do so can result in a car accident, and it may also result in the driver's liability in a negligence claim. To be clear, a driver can be negligent even if they are traveling below the posted speed limit but they are driving too fast given the winter road conditions.
Negligent Vehicle Maintenance Can Be More Likely to Result in a Collision 
Cars, pickup trucks, and SUVs need maintenance to prepare them for winter road conditions. For example, the AAA Foundation for Traffic Safety emphasizes that motorists need to replace their wiper blades, check their tire treads (and have tires replaced if necessary), check coolant levels and lights, and ensure that engine hoses are free of cracks and leaks. Any of these issues could lead to an accident on a road in or around Harrisburg. Accordingly, if a driver fails to have their vehicle properly maintained and fails to consider winter vehicle maintenance necessities, that motorist may be liable for injuries in a crash.
Contact a Harrisburg Car Accident Lawyer 
If you or someone you love got hurt in a collision, you should discuss your options with a Harrisburg car accident attorney at Ira H. Weinstock, P.C. today.
Sources:
crashstats.nhtsa.dot.gov/Api/Public/ViewPublication/812823
exchange.aaa.com/wp-content/uploads/2013/10/Winter-Car-Care-Checklist1.pdf