Avoiding Auto Accidents This Winter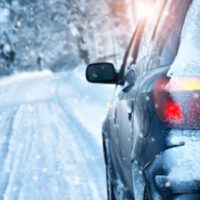 Whether you are driving around Harrisburg or are traveling a longer distance to visit friends or family this winter, it is critical to understand the risks of winter weather car accidents and to take precautions. According to the Federal Highway Administration (FHWA), more than 70 percent of the roads in the U.S. are located in regions where it snows, and about one-quarter (24 percent) of all weather-related motor vehicle crashes occur on roads affected by snow, slush, or ice. About 15 percent of all reported weather-related accidents occur while it is snowing or sleeting. In total, winter weather crashes account for approximately 1,300 deaths every year, and nearly 117,000 injuries. You should understand the best ways to avoid a winter driving collision, and you should know about your options if you are injured in a crash caused by another motorist.
Tips to Avoid a Traffic Collision in the Winter 
When you are driving in the winter, it is important to do everything you can to stay safe. The following are some safety recommendations from the National Safety Council (NSC) and the AAA Foundation for Traffic Safety:
Get your vehicle ready for the winter, which means having your battery testing, checking to be sure that your cooling system is functional, getting winter tires, monitor your tire pressure, have your windshield wiper blades replaced, and ensure that your gas tank remains at least half full in freezing weather;
Prepare your car for winter driving every time you go out by ensuring that your mirrors and exterior cameras are cleaned, and that dirt and ice have been removed from any sensors like your automatic emergency braking;
Avoid driving in inclement weather if you can change your travel plans, which may mean leaving earlier or later than you initially planned;
If you must drive while it is snowing or sleeting, give yourself extra time and take extra precautions;
Change your driving approach for winter road safety, which means slowing down (often traveling well below the posted speed limit), increasing your following distance, and always braking before you turn;
Avoid swerving to avoid deer, and instead drive slowly and apply your brakes;
Never stop if you are traveling uphill, recognizing that the road may be icy;
Always accelerate and decelerate slowly; and
Never use cruise control when you are driving in snow or sleet, or traveling on icy roads.
Filing a Car Accident Claim After a Winter Crash 
After a winter car accident in the Harrisburg area, you will likely begin the claims process by filing an insurance claim through your own insurer since Pennsylvania is a no-fault state for auto insurance purposes. However, if you have sustained serious injuries, you should find out about options for filing a third-party insurance claim or a lawsuit against the responsible motorist. Even if a motorist was traveling at the speed limit or following general road rules, that driver may nonetheless be responsible for your injuries if that driver's behavior was not reasonable given the hazardous driving conditions.
Contact an Auto Accident Lawyer in Harrisburg 
If you have questions about filing an auto insurance claim or need assistance determining your eligibility to file a lawsuit after a winter car crash, one of our Harrisburg auto accident lawyers can assist you. Contact Ira H. Weinstock, P.C. for more information.
Resources:
nsc.org/community-safety/safety-topics/seasonal-safety/winter-safety/driving
insights.ohio.aaa.com/how-avoid-winter-accidents/