NLRB Finds Displaying Signs in Personal Vehicles is Not Picketing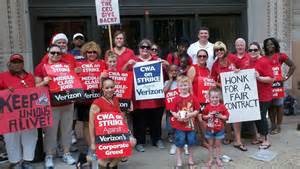 In the matter of Verizon New England, Inc. and International Brotherhood of Electrical Workers, Local 2324 the National Labor Relations Board (NLRB) considered whether employees were in violation of the "No Strike" clause of their collective bargaining agreement by displaying signs in their personal vehicles. See, http://www.nlrb.gov/cases-decisions/weekly-summaries-decisions/summary-nlrb-decisions-week-march-9-13-2015 . In its holding the NLRB finds displaying signs in personal vehicles is not picketing and therefore not a violation of the "No Strike" language of the contract.
The NLRB found that since 1977, the parties had included the same "No Strike" provision in their collective bargaining agreement. That provision, provided, in pertinent part: "The Union agrees that during the term of this Agreement, or any extension thereof, it will not cause or permit its members to cause, nor will any member of the Union take part in any strike of or other interference with any of the Company's operations or picketing of any of the Company's premises." Despite that contractual provision, the Union had a long-established practice of engaging in ambulatory informational picketing at or near the Employer's facilities, most commonly when the contract was nearing expiration. Consistent with this practice, the Union distributed to bargaining unit employees 28" x 22" picket signs, bearing the slogans, "Verizon, Honor Our Existing Contract" and "Honor Our Contract." Also in March, ambulatory picketing began at some of the Respondent's Massachusetts facilities, but it was not slated to begin until April at the Westfield, Springfield, and Hatfield facilities. A few weeks prior to the start of informational picketing at those three facilities, employees began displaying their picket signs in the windows of their personal vehicles parked on the Employer's property while they were at work. The Employer instructed the employees to remove the signs, and the employees complied.
The Union filed unfair labor practice charges alleging that the Employer violated Section 8(a)(1) of the Act by prohibiting employees from displaying the signs in their vehicles. In support of the Union's charge, the General Counsel and the Union argued that the employees' conduct did not constitute "picketing" because the stationary display of signs in their vehicles lacked the necessary element of confrontation, citing Carpenters Local 1506 (Eliason & Knuth of Arizona, Inc.), 355 NLRB 797, 802 (2010). The NLRB agreed finding that the "No Strike" contractual provisions cited by the Employer neither addressed nor reasonably encompassed employees' display of signs in their personal vehicles, and there is no evidence that the parties intended the contract to cover that conduct. As such, the Employer actions unlawfully prohibited the employees from exercising their Section 7 rights in violation of Section 8(a)(1) of the Act.
If you need an experienced Labor Attorney, contact our law firm.