What You Should Know About Qualifying For Social Security Disability Benefits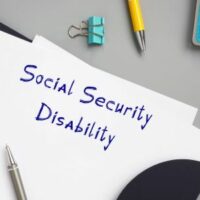 If you have recently become disabled as a result of an injury or illness, you are likely thinking about applying for disability benefits. The Social Security Disability Insurance (SSDI) program provides benefits to people who are disabled and have worked for enough time to be eligible. Our Harrisburg Social Security disability lawyers can tell you more about qualifying for Social Security Disability benefits in Pennsylvania.
You Must Have a Disability According to the Social Security Administration 
First, to qualify for SSDI benefits, you must have medical evidence of a disability as the Social Security Administration (SSA) defines it. The SSA says a disability is marked by "the inability to engage in any substantial gainful activity (SGA) by reason of any medically determinable physical or mental impairment(s) which can be expected to result in death or which has lasted or can be expected to last for a continuous period of not less than 12 months."
You Must Have a Sufficient Work Record 
In addition to having a disability as it is defined above, the SSA also explains that "you must have worked long enough‑and recently enough—under Social Security to qualify for disability benefits." You need to have, in general, 40 work credits (with four credits typically earned for full-time work each year) with 20 of those credits earned during the last 10 years.
You Will Likely Need to Go Through a Five-Month Waiting Period After Approval 
For most disabilities, once you have been approved for SSDI benefits by the Social Security Administration, you will still need to go through a five-month waiting period before you begin receiving your first benefits check. As such, you should know that qualifying for benefits or being approved for SSDI benefits does not mean that you will immediately begin receiving payments. Unless your disability puts you in the category of an exception (such as people diagnosed with ALS), the five-month waiting period will apply to you.
SSDI Benefits Are Different from Supplemental Security Income (SSI) Benefits 
You should also be aware that qualifying for SSDI benefits is much different from qualifying for Supplemental Security Income, or SSI, benefits. Although the acronyms look very similar—SSDI and SSI—eligibility is quite different for these two types of federal disability benefits.
While both SSDI and SSI qualification requires you to have a disability according to the definition provided by the Social Security Administration, SSDI benefits are based on your work history and the amount of time you have "paid in," while SSI benefits are for low-income individuals with disabilities. As such, you do not need to have a particular work history to qualify for SSI benefits. And you can receive SSDI benefits regardless of the amount of money you were earning prior to becoming disabled, even if you were an extremely high earner.
Contact a Disability Benefits Lawyer in Harrisburg 
If you have questions about qualifying for SSDI benefits or need assistance with your application or an appeal, our Harrisburg SSDI benefits lawyers can assist you. Contact Ira H. Weinstock, P.C. for more information.
Resource:
ssa.gov/benefits/disability/qualify.html#anchor0