Highway Hypnosis: How It Increases Harrisburg Truck Accident Risks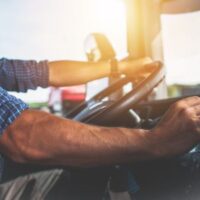 Truck drivers spend long hours on the road. With little to occupy their time or attention, they can easily end up zoning out while behind the wheel. Highway hypnosis is a common phenomenon in the trucking industry and can significantly increase the risk of truck accidents in Harrisburg. Our Harrisburg truck accident attorneys explain more about the problem and how to protect yourself and your passengers when sharing the road with big rigs.
Highway Hypnosis A Common Type of Distracted Driving
When driving on long trips or on roads you frequently travel, a strange phenomenon may take place. You may find yourself getting somewhat tired and losing focus. When something finally grabs your attention, you may be surprised at how much time has passed or by how far you have traveled without being aware of doing so.
This is known as highway hypnosis. It can happen to any motorist, but with the long hours truckers spend on the road, it is particularly common in the trucking industry. It is considered a common type of distracted driving. However, the National Institutes of Health claims that unlike manual, visual, or cognitive distractions, in which you consciously engage in other activities, highway hypnosis occurs more on an unconscious level. Unfortunately, it can have serious impacts on driver safety, resulting in the following:
Slower reaction times;
Failing to observe posted speed limits;
Failing to yield or stop for red lights;
Swerving dangerously in and out of lanes.
Protecting Yourself Against Highway Hypnosis
Healthline encourages all drivers to be aware of the risks when it comes to highway hypnosis, as it can significantly increase the odds of a crash. You should also be aware of the potential for highway hypnosis among truckers you share the road with, as truck accidents in Harrisburg often impact other motorists involved.
Give trucks plenty of space on the road and be particularly cautious when driving at night or along monotonous sections of highways, which is when highway hypnosis is most likely to happen. Steps truck drivers can take to reduce the risks include:
Avoid driving overnight when possible;
Get plenty of sleep before taking a trip;
Take frequent breaks when on the road;
Aim for healthy snacks rather than overloading on sugar or caffeine;
Open windows and vents to increase air circulation.
Trucking companies should also take precautions to help prevent highway hypnosis among their drivers. These include avoiding overscheduling and allowing adequate days off between trips. Driver assist features, such as automatic braking and lane departure warning sensors, can also help reduce crash risks.
Injured In A Crash? Reach Out To Our Harrisburg Truck Accident Lawyer
Highway hypnosis is a common factor in truck accidents in Harrisburg, which often impact other motorists on the road. If you or someone you love is injured, Ira H. Weinstock, P.C. provides the professional legal representation you need in filing a claim. To request a consultation, call or contact our Harrisburg truck accident lawyer online today.
Sources:
ncbi.nlm.nih.gov/pmc/articles/PMC9920901/
healthline.com/health/highway-hypnosis